FREE: Digital Influencer Boot Camp – digital marketing workshop online
Janette Toral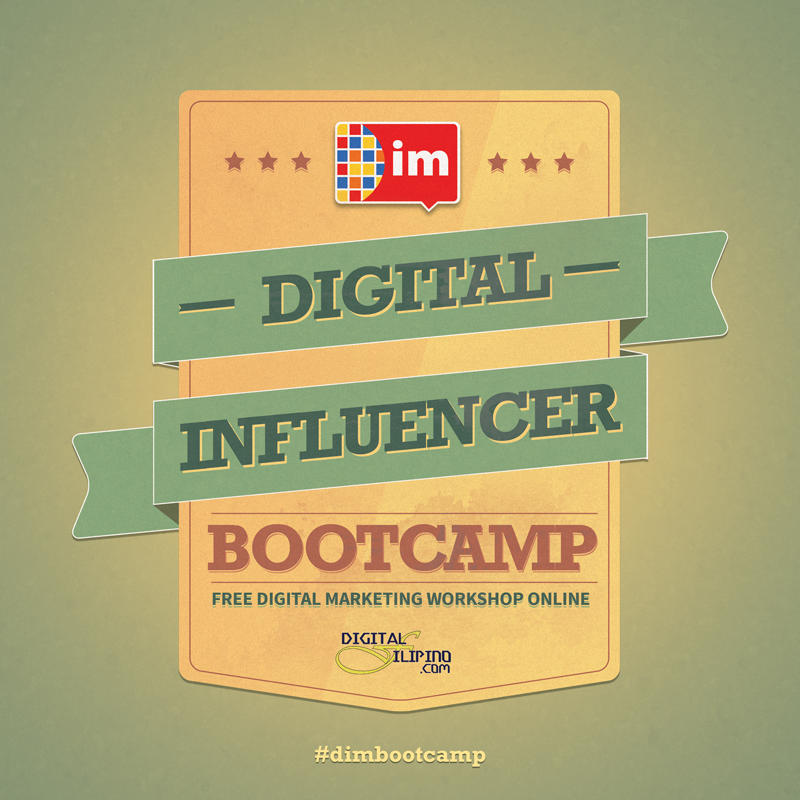 Do you want to build your online influence but don't know how to get started? Do you have an existing business but need help in growing it further by collaborating with influencers and using various digital marketing techniques?
Join the FREE: Digital Influencer Boot Camp – a digital marketing workshop online (#dimbootcamp)
Learn various digital marketing techniques to market your products and services. Build your online identity and establish yourself as a digital influencer. Build an online community of advocates.
This is a 29-lesson program (7 topics) conducted online for free. The first run will have live webinar lectures and access to our members-only area.
The FREE: Digital Influencer Boot Camp – a digital marketing workshop online (#dimbootcamp) will start on January 17, 2013.
It can be taken by anyone interested whether students, professionals, employed individuals, marketers, and entrepreneurs here and abroad.
Digital Influencer Boot Camp
The program outline and schedule shall be as follows. (Schedule may be subject to change. This page shall be frequently updated to reflect changes.) Note that output requirements for participants to comply with shall be discussed during the webinar session.
1. Digital Influencer Marketing (2 session)
What is a Digital Influencer? What is a brand advocate?
Examples of Digital Influencers and brand advocates
Building your Digital Influence
How to identify digital influencers and brand advocates?
How can brands work with digital influencers?
2. Create your Online Presence (2 sessions)
Content plan and writing style
Platform and infrastructure identification
Designing an Influencer Site Campaign
3. Digital Marketing Policies (2 sessions)
Data Privacy Act
Advertising Regulations
4. Search Engine Marketing (4 sessions)
SEO Techniques
SEO Tools
Tracking traffic performance
Internet advertising through Google Adwords
Designing a Search Engine Marketing Campaign
5. E-Mail and Newsletter Marketing (3 sessions)
Designing an E-Mail Marketing Campaign
E-Mail Marketing Tools & Techniques
Newsletter development
6. Social Media Marketing (13 sessions)
Designing a Social Media Marketing Campaign
Social network marketing and advertising
Blog promotion
Micro-blogging
Photo, video, media sharing
Social news and bookmarking
Ratings and reviews
Forums
Location-based
Social shopping
Virtual worlds and games
Reputation management and crisis handling
Social media metrics
7. Mobile Marketing (3 sessions)
Text messaging campaigns
Mobile website
Mobile applications
Designing a Mobile Marketing campaign
Why join the DigitalFilipino Digital Influencer Boot Camp?
1. Learn for free.
This is part of Janette Toral's advocacy to build a community of digital influencers nationwide. (more info about Janette Toral)
2. Meet like-minded individuals and learn with your friends.
You can invite your friends to take this free digital marketing workshop with you. You will also meet new people in the process as we have an online community of those who attended our Digital Influencer Marketing Summit.
You can also meet like-minded persons by attending our upcoming Digital Influencer Marketing Summit happening in La Union (January 26) and Rizal (February 2).
3. Designed for all levels (beginners, novice, advance)
Our topics will cover a wide range and shall be ready to accommodate queries from various user skill levels.
4. Up-to-date relevant topics
We will tackle the latest developments in the sphere of digital marketing. We are flexible and can expand the learning program as the need arises.
5. Multi-disciplinary Digital Marketing Trainers
The workshop will be conducted by e-commerce and social media specialist Janette Toral and invited DigitalFilipino Club Members. Through her website, blogs, books, lectures / workshops (face to face and online), and consultation sessions, Janette will share hands-on knowledge on various facets of digital marketing.
6. Become part of a movement
OUR GOAL is to build a community of digital influencers nationwide. In addition to the online boot camp, we have a roadshow series with the Digital Influencer Marketing Summit. It will be taken to at least 16 locations all over the country.
7. Flexible schedule.
If you can't attend the live webinar sessions, no need to worry. Learning materials will be posted online allowing participants to review the lesson, whether they were able to tune in or not.
8. Help fellow educators.
We hope that this online boot camp will be most valuable to professors who would like to teach their students the ins and outs of digital marketing.
9. Get a certificate from DigitalFilipino.
Complete the assignments and receive an online workshop certificate of completion.
About DigitalFilipino Digital Influencer Boot Camp
The DigitalFilipino Digital Influencer Boot Camp is an advocacy of Janette Toral that aims to help Filipinos aspiring to become digital influencers. This is meant to supplement our ongoing Digital Influencers Marketing Summit happening in different parts of the country.
Janette Toral is a disruptive e-commerce and digital marketing practitioner since 1997. A change agent,  maverick leader, and velvet rope architect. Janette has published a blogging book and produced a video tutorial series in 2008.
She partnered with Ateneo De Manila University and eLearning Edge for the Certified Blog and Social Media Entrepreneur Program.
SIGN-UP!
The DigitalFilipino Digital Influencer Boot Camp #dimbootcamp is ongoing. Hope you can join and share this free learning opportunity to others.