About DigitalFilipino - Janette Toral
DigitalFilipino.com started last September 17, 1999 to promote Janette's work on e-commerce, Internet research, Philippine Internet history, and blogging.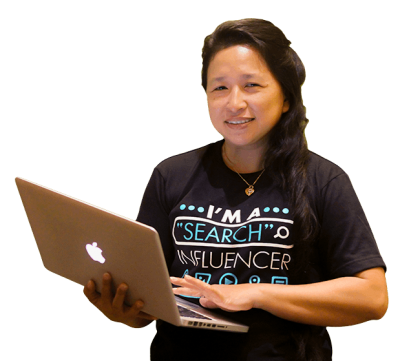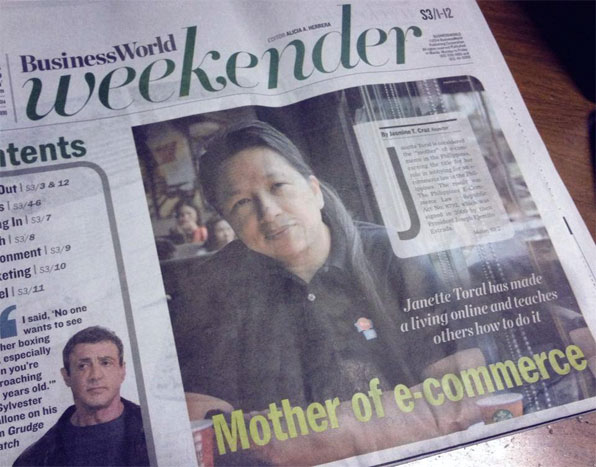 11. Janette's work in DigitalFilipino paves the way for her to speak in local and international events. Here are some international events where she has spoken in the past.
6th APEC E-Commerce Alliance Forum (China, June 29, 2016)
E-Commerce Show Asia (Singapore, April 2016)
Global Real Estate Developments and Agents Conference (Malaysia, April 2016)
Global Leadership Institute (Thailand, February 2016)
Customer Loyalty Asia (Singapore, October 2015)
E-Commerce Supply Chain Conference (Thailand, July 2015)
Public Key Infrastructure (PKI) Conference (Malaysia, June 2015)
APT/ITU/PITA Workshop on Principles of Cyber Legislation for the Pacific Region at Stamford Plaza Hotel, Auckland, New Zealand last March 28 to 30, 2007.
APEC Women's e-Biz Training, Sookmyung Women's University, Seoul, Korea
Global Knowledge Forum, Seoul, Korea
APEC Telecommunications Working Group 30, Singapore
Regional Meeting on ICT for the Pacific at Nadi, Fiji
E-Commerce Workshop for SMEs at Suva, Fiji
APEC Telecommunications Working Group 29, Hong Kong
Shaping the Future Mobile Society Forum of the International Telecommunications Forum Seoul, Korea
Business Process Outsourcing Asia 2003, Singapore
Global Executive Forum at Cancun Mexico
Forum on ICT and Gender 2003 in Kuala Lumpur, Malaysia
Closing Gaps in the Digital Divide: Regional Conference on Digital Greater Mekong Subregion, Asian Institute of Technology at Pathumthani, Thailand
EXPERT GROUP MEETING ON INFORMATION AND COMMUNICATION TECHNOLOGY (ICT) FOR RURAL POVERTY REDUCTION: DEVELOPING NATIONAL POLICIES at United Nations Conference Complex Bangkok, Thailand
inWent Workshop in Southeast Asia  at Asian Institute of Technology, Pathumthani, Thailand
Joint UNCTAD-UN ESCAP Asia-Pacific Regional Conference – "E-commerce Strategies for Development"
United Nations Conference Center, Bangkok, Thailand
ASEAN+3 IT & Telecom Business Forum Seoul, Korea
APEC Workshop on Empowering SMEs through Digital Integration, Maria Isabel Sheraton Hotel, Mexico City
O'Reilly Emerging Technology Conference, Westin Santa Clara & Santa Clara Convention Center, Santa Clara, California, USA
Mobile Wireless Internet Forum Technical Committee Meeting, Cisco Systems Campus, San Jose, California, USA
Knowledge Technologies Conference 2002, Westin Hotel, Seattle Washington, USA
From 2002 to 2003, she has participated in international forums as an active discussant on e-commerce policy at:
International Trade Center forums in Geneva, Switzerland and Kathmandu, Nepal (2002)
APEC Digital Divide Forum Taiwan (2001)
APEC Young Leaders Conference at Beijing and Shanghai, China(2001)
12. Published a blogging book and produced a video tutorial series.
13. In 2009, Janette began experimenting and offered free and paid webinars in the DigitalFilipino Club. That year, she organized One Internet Day, a one day (12 hours) webinar series featuring various speakers.
14. Partnered with Ateneo De Manila University and eLearning Edge for the Certified Blog and Social Media Entrepreneur Program.
15. Produced more than 40 videos for DigitalFilipino Talks featuring local players and actively produces videos for knowledge sharing.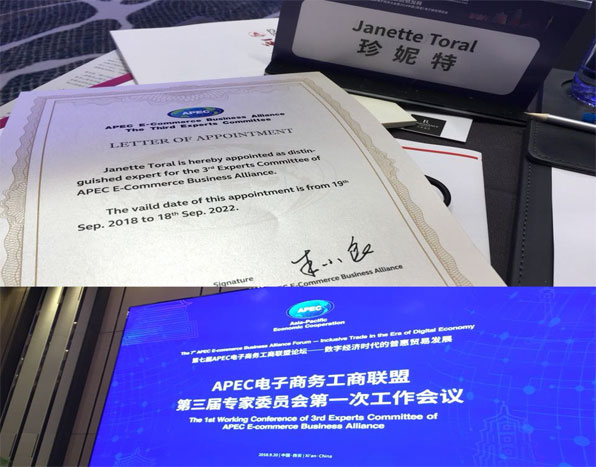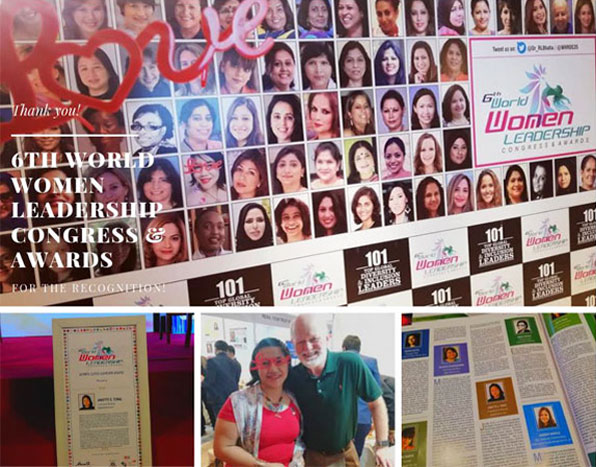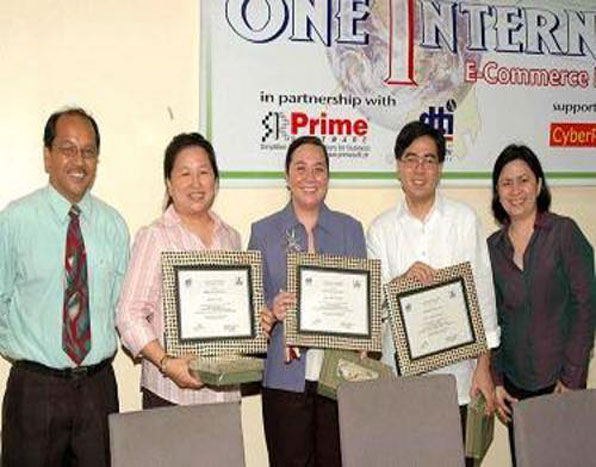 16. Last August – September 2011, Janette went to the US to participate in the 3-week International Visitors Leadership Program. Traveling on an individual program, with an IVLP guide, she went to Washington DC, Pennsylvania,Alabama, Texas, and Seattle. Her customized program allowed her to meet key persons in the Department of Justice, Congress, Federal Trade Commission, SEOMoz, Microsoft, Banyan, Rice University, BizTech, AlphaLab, Global Pittsburgh, Bibliotecha, Digium, Carnegie Melon University, FHI 360, LivingSocial, Resonance Social, Innovate Washington, Mill Creek Middle School, Association for Women in Communications Seattle, among others.
17. Last September 2011, Janette was one of the 6 women innovators showcased in the APEC Women and Economy Summit in San Francisco, USA.
18. To test the content of her upcoming 3rd e-commerce book, she launched last November 29, 2012 her latest e-commerce online workshop series with 36 lessons (12 topics).
19. On January 17, 2013, she launched the Digital Influencer Boot Camp – a free digital marketing workshop online.
20. On July 2014, she released the  Digital Leaders Boot Camp online.
21. On November 2014, partnered with AIE College and Asian Institute of E-Commerce for the Certified E-Commerce Specialist, E-Commerce Entrepreneur, and E-Commerce Professional Program.
22. On April 2015, she rendered volunteer work to the Department of Trade and Industry – E-Commerce Office to develop the Philippines E-Commerce Roadmap 2016 to 2020. She facilitated the discussion sessions with the government and private sector done through face-to-face and via webinars. Presented the roadmap as well in forums conducted in Baguio, Cebu, and Davao. The roadmap was released to the public last February 2016.
23. In 2016, she developed the MSME E-Commerce Activation Program that was adopted by DTI as part of its 15 locations roadshow. She also became a Fascinate Certified Advisor for Fascinate Inc.
24. In 2016 to 2017, she created the "E-Commerce and Digital Marketing Mentoring Program for MSMEs" (12-days). Conducted in Cebu (3 batches) and Bohol (1 batch).
25. In 2017, she created e-commerce, digital marketing, freelancing training modules used in the Rural Impact Sourcing Technical Training series (25 locations in 2017).
She created training programs in Social Media Marketing, Graphic Design, Virtual Assistance, Website Development as part of the RISTT program in 2018 – rolled out in 64 locations.
26. In 2018, she became a full-fledge Executive Director, Certified Trainer, Coach, and Behavioral Analysis Consultant with The John Maxwell Team. Also a Certified Practitioner of the Global Leadership Assessment 360 (Marshall Goldsmith). She expanded into the leadership segment recognizing that the success of any person relies on their personal leadership.