December 17, 2020
WE ARE ONE: Take Charge and Thrive in 2021
It's our privilege to invite you to the WE ARE ONE: Take Charge and Thrive in 2021 this December 17 from 8:30 am to 12:00 pm (GMT+8) via webinar.
Seven years ago, several speakers and peers in the industry organized WE ARE ONE, a cause-oriented event, meant to help typhoon Yolanda victims.
Over the past month, we have experienced major calamities. The WE ARE ONE team volunteer speakers agreed to mount another event to support Save The Children Philippines – eSave Natin ang Pasko. Donors giving at least five hundred pesos (P500) will get a slot for this webinar event.
Topics & Speakers include:
Purposeful Pivots this 2021 (Boris Joaquin)

Digital Transformation Strategies (Janette Toral)

Outgrow Any Crisis through Self-Education (JC Libiran)

My Sales Are Down. How Do I Bounce Back (Randy Esguerra)

LEADing MySELF (Pido Aguilar)

From Victim to Victor (Joey Reyes)

From Disruption to Discernment Towards 2021 (Ricky De Vera)
CLICK HERE TO GIVE five hundred pesos (P500) TO Save The Children Philippines – eSave Natin ang Pasko TO GET A SLOT FOR THIS EVENT.
Those giving at least P2500 will also get a slot at Live2Lead: Save The Children webinar from 3 pm to 8 pm (also on December 17).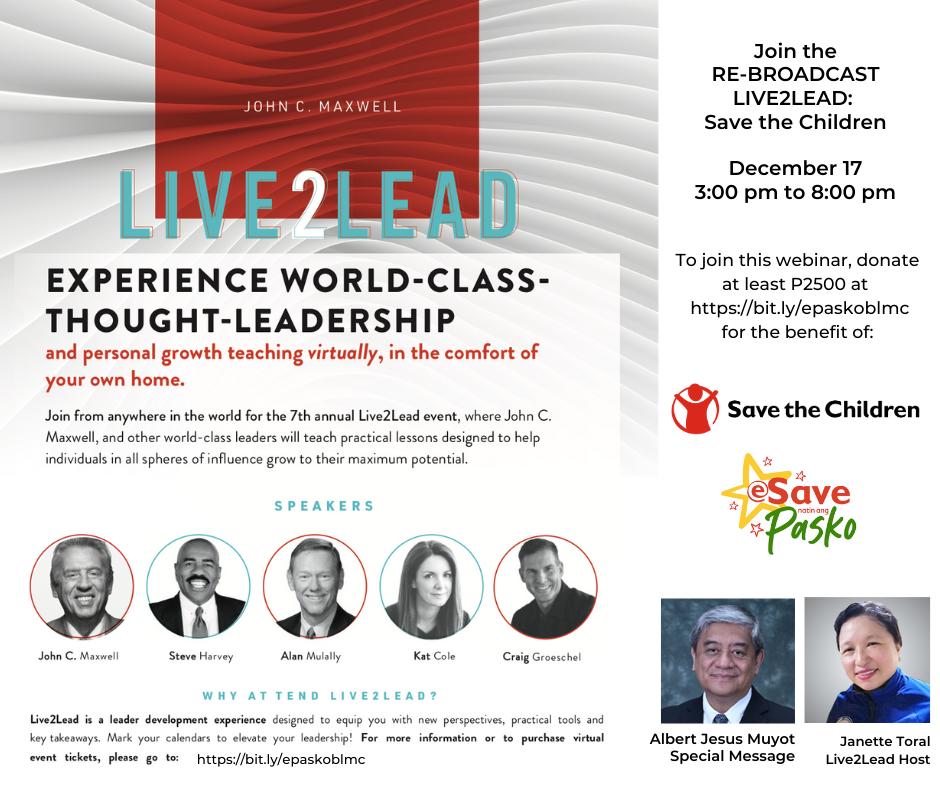 Live Preview